The bride is shared in a viral post on popularity reddit Forum "Am I The A**hole" says her fiancé does not want her father to walk her down the aisle due to a financial dispute.
in positionu/throwaway569070, who has amassed more than 11,000 votes since her engagement on Monday, said her father and fiancé have had a history of quarrels, but it came to a head when her fiancé said he didn't want her father to walk her down the road. The aisle because he didn't contribute money to the wedding. That prompted u/throwaway569070 to describe her fiancé as selfish.
"AITA for calling my fiancé selfishly for refusing to let my dad walk down the aisle?" Read the title of u/throwaway569070's post.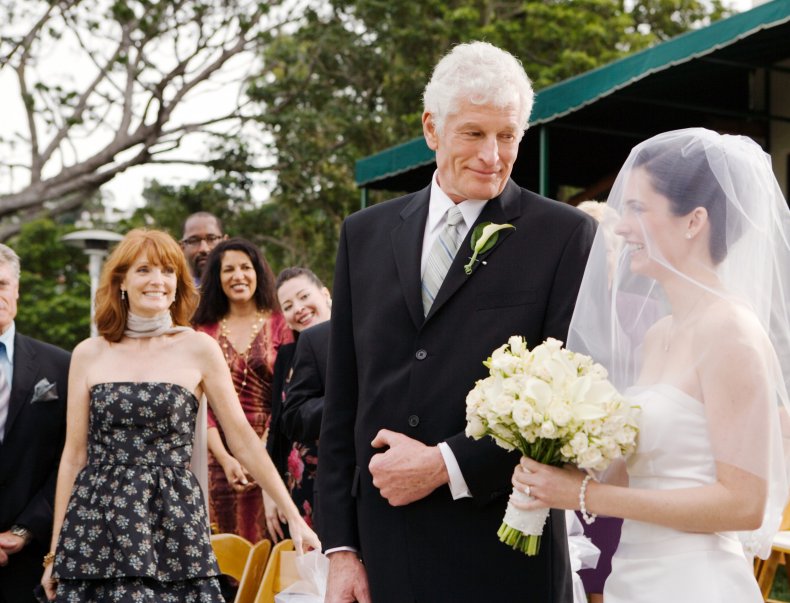 Walking in the aisle
according to bridesOne of the most "memorable" parts of any wedding is the bride walking down the aisle.
"Traditionally, fathers walk their daughters down the aisle," the magazine reported. "Once the couple arrives at the altar, they are presented to their partner for marriage."
While many brides choose to have their parents walk with them down the aisle, brides can choose to have their own other person walking with them down the aisle.
"How someone chooses to approach them can symbolize her core values ​​at that moment: independence, support, identity, equality – deep personal feelings associated with this change in life," the magazine said.
"Etta?"
Redditor u/throwaway569070 said she doesn't have a big family, although she and her father, who raised her as a single parent, have a strong relationship.
She said that her fiancé and her father do not have a strong relationship, and they have their fair share of controversies, especially when it comes to how your father handled his grief over her mother's death.
She said that her fiancé was angry with her father for speaking about his suffering after her mother's death, accusing him of trying to gain the sympathy of others.
u/throwaway569070 said: "The last dispute between them was when my father refused to give my fiancé money to contribute to the wedding." "My fiancé complained but I said my father is not obligated to pay for the wedding."
She said her fiancé told her she needed to find someone else to walk her down the aisle, noting that her father should be "grateful" that he was still invited to the wedding.
Annoyed, u/throwaway569070 argued with her fiancé and said she wanted her dad to be the one to walk her down the aisle.
"He threw a knockout saying I was trying to spoil his mood and upset him on our wedding day but I called him selfish because [wanting] To take it away at the moment I always dreamed of because of his disagreements with my dad."
Redditors' reaction
Reddit users overwhelmingly sided with u/throwaway569070 and urged her to reevaluate her relationship with her fiancé.
One of the best comments read was "Your fiancé is trying to control you". "Your father sees a threat to his control over you."
Another Redditor wrote: "Your father was criticized for his handling of grief." "That doesn't sound like a guy who knows how to love."
"I hope you understand that this will be your life if you continue," reads one comment. "Your fiancé will constantly try to disconnect you from your support system and most likely your friends too, all while frustrating you in a lot of small ways."
NEWSWEEK I reached out to u/throwaway569070 for comment.
Other Reddit users have taken their personal dilemmas to the "Am I The A**hole" forum.
Mother She was supported to give her son's dog to his ex-wife. Supported Redditors A woman said she refused to share her password securely with her sister's partner.
one man He sparked controversy after he kicked his mother out of the house for allegedly insulting his wife.