tThe last time the world heard from singer-songwriter Natalie Meringue, it was 2019, and Titanic Rising, her fourth studio album under the Weyes Blood name, was rightfully hailed as one of the best albums of the year. Titanic RisingHis voice was rich and evocative of early 1970s California. Nevertheless, her songs were very much a product of the 21st century, marked by a pervasive sense of impending catastrophe, fueled by the index of millennial fears that stretched from online dating to late capitalism and environmental collapse.
Not unexpectedly, the intervening three years did little to improve Meringue's mood. By her own account, she's not one of those people who finds the covid pandemic an unexpected but ultimately welcome reset, a chance to stop, breathe and take stock. "It's been more revealing than ever that people are getting hurt," she asks, rhetorically, about the successor to Titanic Rising, an album where everything is broken and everyone fails to connect with everyone else.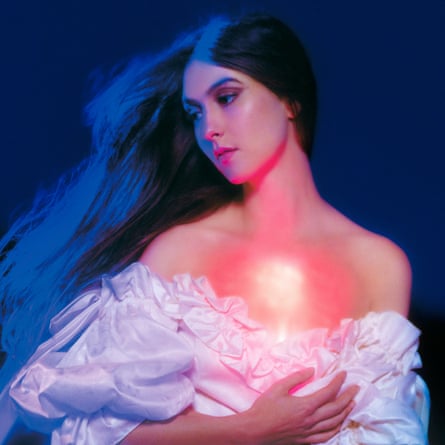 She protested on a song called Hearts Aglow, "I'd give anything to hold him back, I've been friendless," but when you do, it doesn't feel right. After a lovely flash of chords, the first thing you hear in And in the Darkness, Hearts Aglow is Mering describes sitting alone at a party, "I wonder if anyone knows me, and really sees who I am – it's been so long since I've really known." If anyone wonders why Meringue thinks that's the problem, the accompanying video for "It's Not Just Me It's Everybody" features her performing a pas de deux dance with an animatronic mobile phone that, when not dancing, rips human guts out. In Grapevine, she fondly remembers an ex, wondering if she'll ever see him again; When I did later, he was driving on the other side of the road, and was briefly glimpsed speeding in the opposite direction. It is a worldview perhaps associated with ill-advised closing arrangements. "I should have stayed with my family," she laments as the album draws to a close, "I shouldn't have stayed in my little place in the loneliest city in the world"—hardly the line L.A. adopted. You'll use it in tourism literature, no matter how successful and in the dark it becomes Hearts Aglow.
Whatever havoc the epidemic might wreak on Meringue's already bleak outlook, it did nothing to spoil her musical abilities. And in the dark, Hearts Aglow gently bombards you with one wonderful note after another: the sweet Grapevine sigh; Twin Flame, as her voice soars away from sparse synthesizer and archaic drum machine backing; The deceptively beguiling Children of Empire, framed by an intricate Brian Wilson-inspired arrangement that ultimately includes everything from tubular bells to a bugle, but never seems labored.
Additionally, the album's one-line vocal pitch—a somber State of the World title set over lush retro arrangements—seems to undercut its complexity. His voice isn't just a matter of historical re-enactment. Meringue Road to Making Music It was such an indirect—she began her career as part of the Portland rock scene, enjoying a brief stint as guitarist for the spooky Explorers of Sound Jackie, motherfucker', while Weyes Blood's early releases dealt with eccentric folks – and its experimental past continues to show through the album's lush sheen. God Turn Me Into a Flower pits her voice and melodies against an acoustic synthesizer that eventually consumes the song, turning it into a kaleidoscope of evocative electronic flashes and intriguing birdsong. There's something similarly tense and unsettling about the Holy Flux's instrumental interlude and the noises that open and then continue to interrupt the country rock-infused harmony of The Worst Is Done.
Meanwhile, the obvious sonic comparison is Karen Carpenter, with which Meringue shares a velvety, controlled melancholy. And like Carpenter's music, there is something intriguingly unknown at the center of this album. Just as it wasn't entirely clear whether Carpenter was intentionally shipping what was supposed to be easy listening with an almost unbearable sadness — whether she was pouring her own distress into her readings of the songs or whether the listener was simply projecting his knowledge retrospectively onto the sound of her voice. – It is not entirely clear whether everything Meringue sings is intended with murderous seriousness. When you gladly unpack The Worst Is Over's initial optimism – "I think it's just getting started" – you find yourself wondering if you're in for a swashbuckling killer or an exceptionally deadpan comic. It makes And in the Darkness, Hearts Aglow feel more like a puzzle than it first appears – and it's an impeccably fun to solve.
Alexis listened this week
Joey Orbison 2m3 2U
Unlike Joy Orbison's bland recent collaboration with Jorja Smith, 2M3 2U is sparse, rambunctious, and built for dark dance floors into the small hours.