TThis is every chance that Ice-T wasn't talking about football when he wrote "Don't Hate the Player, Hate the Game" in 1999. Twenty-three years later there is still no sign of his eagerly awaited follow-up, "Don" I don't hate the referee, I hate the law," but it would be helpful if someone wrote it down.
To hate the laws of football, you have to know what they are and it seems that an increasing number of people who get paid to talk about the game don't and can't admit it when that is the case. Fikayo Tomori fouled Mason Mount and red card In San Siro on Tuesday It was the perfect illustration.
Despite decades of the same critics yelling at players to get on their feet, Mount's exact act confounded many into thinking that pulling Tomori over his shoulder wasn't enough of a violation. Once the referee considers it a foul, this is a red card. Tomori is not trying to play ball.
Just because it's not an extreme violent act doesn't mean it's not wrong. An error can be soft and still be an error. It's a rotten law when Tomori could have slipped through the back of Mount, took a player and a ball, was more dangerous and might have been given a yellow card. Don't hate reference, hate law.
You often hear nonsense: 'There was no intent – the check laws, it could be wrong; 'there was a connection' – the check laws, it shouldn't be wrong. That's the extraordinary thing about football laws. They are freely available to read. You can Get the pdf file from Ifab if you want. It's not a flipped page, it's not "everything is as good as Gresham". Lee Child and Richard Usman can rest in peace.
It stated on the front page: "Since many situations are subjective and match officials are human, some decisions will inevitably be wrong or cause controversy and debate." "For some people, this discussion is part of the fun and appeal of the game, but whether decisions are right or wrong, the 'spirit' of the game requires respect for the judges' decisions."
There is a real question as to whether discussing controversial decisions is "part of the fun of the game". Do fans really enjoy meditating on collisions in super slow motion or listening to radio shows and podcasts frantically trying to figure out where the ends of the shoulder and arm are? There is limited time to analyze a football match and the more time spent on it, the less time you spend deconstructing tactics, explaining why this player has the freedom in the far post or just enjoying a nice pass, a turn or a great shot.
Watching the decision, protesting it and yelling 'This is the Premier League we're talking about, there's something to be done' is easier than explaining Pep's inverted full-backs. Even throwing a previous reference into a portable building from behind and crossing over to it for explanations doesn't seem to clarify anything.
Mistakes happen and need to be discussed. Fulham fans are still reeling From the events of London Stadium last Sunday. But with all the anger about VAR technology when it's not perfect, no one has mentioned it when it flips wrong and used correctly, which the stats show it is most of the time.
Critics and fans can be forgiven for not knowing all the laws – You Are The Ref can only last so long if we don't know them all. I have no problem admitting that I no longer know the law of handball. I just read it. This is not a single judgment error – that is the problem with Ifab. It's a mess.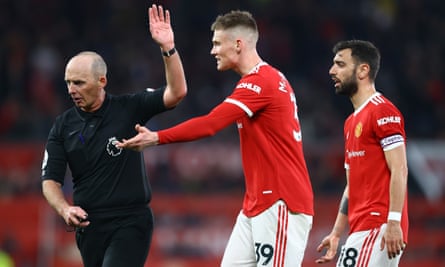 Perhaps the inability to admit ignorance is a consequence of the binary nature of social media where frank and hard-line opinion is encouraged over everything else. "Not so sure" doesn't get a thousand retweets.
What is the effect of all this, if any? Former pros misunderstand laws, give referees hold on, and then social media accounts that should better know parrot these opinions and ask meaningless questions like: "Was this an intrusion?" Any growing sense of injustice about a decision generates all kinds of conspiracy theories. It is clear that there is an agenda against [YOUR] The club – why did PGMOL make him responsible for that match when he was born near their stadium?
Perhaps all of this would be fine if it ended with panicked online football fans screaming into the void, but the top referees are being abused beyond any level of acceptance. Mike Dean was disqualified from officiating a match after that Receive death threats online last year.
What about the grassroots? Is the conversation filtered from the TV studio via social media to how officials are treated at the bottom of the pyramid? It's hard to determine. But last week, a 24-year-old was arrested on suspicion of serious assault on a referee after an amateur match in Lancashire. Dave Bradshaw was "seriously injured" in an attack by a Platt Bridge player during a South Lancashire County League match against Wigan Rose.
Last season, 380 players and coaches were banned for attacking or threatening match officials in English football. This weekend, the Merseyside Youth Football League canceled all matches after "multiple incidents of inappropriate and intimidating behavior" towards officials. No referees means no football. The FA will try to use body cameras for grassroots references to help protect them. How very frustrating. Regardless of the occasional association, these incidents should focus all of our minds on talking about football.
No one should be above criticism, but at the moment there is not enough emphasis on the fact that it is a very difficult task, with a lot of pressure, and that we all mess sometimes, so the stewards will naturally do it, whether at Old Trafford, Stockley Park or In Hackney Marshes.
Above all, if we are accusing someone of wrongdoing, we are likely to check the laws and make sure it was wrong in the first place.